The refer-a-friend program is live on Income starting today and to celebrate its launch we will be giving a €10 bonus to all new users who register and invest in June.
The refer-a-friend launch bonus :
When you register now and invest at least €100, we will credit your Income account with €10 when the campaign ends. Just use the code Q6DCGX when registering, deposit the money, invest, and you will be eligible for the bonus.
Start right now by clicking here or read more about the refer a friend program. Instructions for registering are at the end of the post.
The refer a friend program:
Once you have registered with Income you will also get your own unique referral code that can be found when you are logged into your account. Think of a friend that could benefit from using our platform, and send them your unique registration link which they can use to sign up on Income marketplace. When your friend registers with your personal code and invests, you'll get 1% of all your friend's invested amount in the first 30 days after their account has been verified.
But this is not all. We'll also transfer the same 1% of the investment to your friend. This way, you and your friend will be able to earn up to €500 each per referral while safely enjoying great returns on Income marketplace.
How to get started:
Click on the "Get Started" button on the top right corner of our website, if you are using a mobile device you can find the button by opening the menu from the top right corner.
Register with your email and password or with your favorite social media login.
Follow the instructions, tick the box where it says "Invitation code (optional)", and enter the code Q6DCGX in the invitation code box (highlighted in blue in below the picture).
Start now by clicking here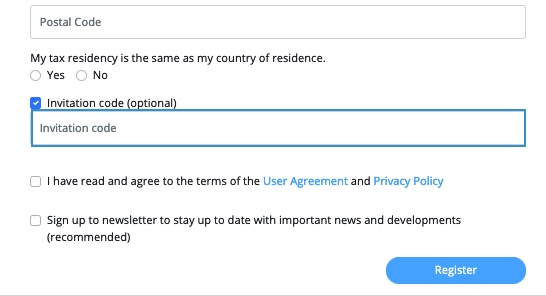 Register today, get rewarded, and enjoy safer investments in loans!